I'm not really a fan of the Rocky Horror Picture Show (sorry Tim Curry), it just seemed like a fitting title.
I got called to one of our branch offices to look at the latest round of problems with a decaying Inter-Tel Axxess phone system. The phones all have the voicemail lamp lit as if a message is waiting, but when you hit the voicemail button the phone just displays a message about the voicemail system being "unplugged".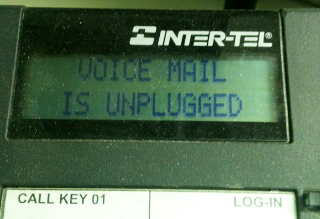 The console was showing recent data as if everything was chugging along, but evidently something wasn't right. The console was all text based, and I was curious what operating system it was running, so I rebooted it…

Hah! OS/2, I haven't seen that in ages. Back in my MS-DOS days I used to long for a copy of OS/2 or DESQview for command line multi-tasking, but never was lucky enough to score a copy.
Anyhow my problem seems to be resolved for now. Looking forward to the day when this system gets replaced with Asterisk.