Have a Buffalo TeraStation PRO Model TS-RHTGL/R5 and lost your password? Me too, here's how I reset the web interface login without losing all my data. The steps will probably be similar on other TeraStation models, but I think the default user credentials might be different (username 'Administrator' vs. 'admin', etc). The TeraStation this was tested on is a TS-RHTGL/R5 running firmware version 1.30. Make a note of your device's existing IP address. After I reset mine it switched to DHCP configuration. This isn't a big deal (provided you have a DHCP server) as the new IP address is easily found through the LCD status window on the TeraStation. Luckily the majority (all?) other configuration details: NTP, SMTP, email address, Active Directory settings, etc appear to have been preserved. Before following these instructions you might want to start with trying the default login credentials:
Username: admin
Password: password
Remove the Bezel
In order to reset the password you'll need to remove the front bezel. If you are lucky enough to know where your key is or had the foresight to leave your TeraStation unlocked you can skip ahead.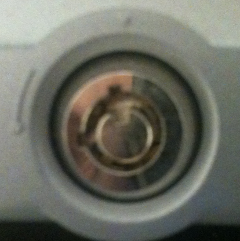 As expected the tubular lock (Also called Chicago or Ace lock) that keeps the face secured to the TeraStation is a cheap one. It has a smaller diameter than common tubular locks and only appears to have 4 pins vs. the more typical 7 or 8 pin varieties. After trying destroying several disposable pens I was able to find one that would work as a make-shift pick for this purpose. Instead of using the exterior shaft of the pen like the infamous Kryptonite bike lock exploit, the smaller diameter of this lock requires a smaller diameter bit of soft plastic. You might be thinking:
"Locks aren't designed to have all the pins pushed to maximum depths in order to be unlocked, they require specific depths for each pin position and hence a specific key".

Normally you would be correct, but as I said, this is a very cheap lock. After trying several disposable pens I ended up using a "BiC SOFT Feel Med." which worked great. Disassemble the pen and remove the ink cartridge and comfort grip from the business-end of the pen. The backside of the piece we are interested in (circled in red below) is a good fit for the diameter of the lock. I was able to lock and unlock the TeraStation several times with this bit of plastic with little effort.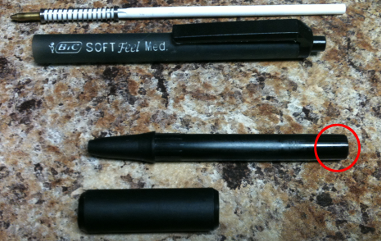 Reset the Password
Now that the bezel is off, look at underside of the display panel on the left-hand side. Press and hold the red button until the display reads "SYSTEM Initializing". The TeraStation will start beeping, the beeps will continue for 30 or 40 seconds.